A handful of different factors contribute to your credit score, and the good news is that you can improve your credit score by monitoring your score and making adjustments in how you use credit to improve your score.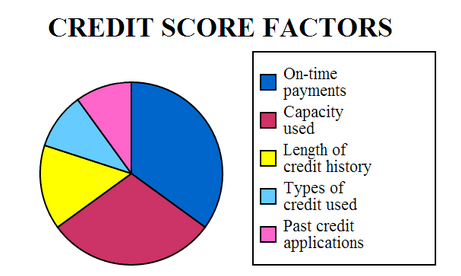 On-time Payments:
The biggest factor that shapes your credit score is your history of making on time payments on a credit card. Making an on time payment on your credit card means you pay off your credit card balance completely before the end of your billing period. Not only will making on time payments help your credit score, but it will also keep you from having to pay interest!
If you are someone who struggles with remembering to pay of credit cards, most companies allow you to set up automatic payments to pay off your balance each month before your payment is due. This is a great strategy for staying on top of credit card payments, however you should budget carefully to make sure you have enough money available to fully pay off your card.
Capacity Used or Credit Utilization:
Your credit utilization is the amount of your credit you use as a percentage of your total credit limit. For example, if you have a credit limit of $1000 and you have spent $450, your credit utilization would be 45%. Experts recommend keeping your credit utilization below 30%, however the lower the better.
To keep your credit utilization low, make sure to pay down your balance frequently. Additionally most credit companies share your balance with credit-tracking institutions once a month. If you look up when your credit balance is reported for your credit card company, you can make sure your credit utilization is always below 30% on this date.
Length of Credit History:
Credit users are rewarded for holding credit cards for an extended period of time. Some things you can do to help boost your score according to this factor are:
Keep old credit card accounts open, unless you have a good reason to close them (such as an expensive annual fee).
Become an authorized user on an old account managed by someone else if they have an excellent payment record (a parent or a spouse might be a good candidate for this one, however, before becoming an authorized user make sure you have a conversation about their credit usage. If they don't manage their accounts well, becoming an authorized user on their account could hurt your score more than it helps).
Types of Credits used/Credit Mix:
You can improve your credit score by having a mix of different accounts that you are actively working to pay off including credit cards, car payments, and mortgages. However this factor plays a smaller role in your credit score, and so you should not acquire so many accounts that you can not effectively pay them all off on time. Furthermore, if you apply for too many credit cards in a short period of time it can hurt your score as it leads to a large number of hard inquiries on your account.
Past Credit Applications/Hard Inquiries:
A hard inquiry is anytime a potential credit company, loaner or mortgage company checks your credit score, which often happens when you apply for a new card or loan. This is different than a "soft inquiry" which is the type of routine check you might use to check on your credit score as a part of responsible financial management. A hard inquiry can drop your credit score by a handful of points, however after around a year that hard inquiry will no longer effect your credit score.